Opposable thumbs. How did I survive without them for so long?

Now, the thing is, my opposable thumbs have meant more than just that I can now knit. Though, ensconced in an easy chair, boofy hind paws up on a comfy pouffe, the old knit-one-purl-one does have its therapeutic benefits.

Just as therapeutic - and less likely to have the local

cani

whispering behind their Italian paws that I'm a Friend of Dorothy - has been cooking.

Those who recall my Boofhead masterclass in the deceptively tricky knack of boiling water - and who have been waiting with bated breath for my return to the

cucina

- can now relax.

Yesterday I ambled my boofy frame back into the cucina

.

Of course I needed an assistant. On TV cooking shows they're usually credited as the Home Economist. That's the person who actually does the tedious work of peeling things and cutting them up while the hero - in this case,

io

- takes all the credit.

Many of you will recall that I share lodgings with Barbra Streisand. Well, these days she's actually more Barbara Cartland but that's another story. Of gruesome old age.

Be that as it may, I appointed Barbra/Barbara my Home Economist and we headed into the

cucina

. Posing for this publicity shot on the way:


The first task was to decide what to cook. Barbra/Barbara argued for anything she could eat through a straw on the basis that, these days, she's got fewer teeth than the back end of a teasing comb:
Of course I won the day. I'm ten times her size.
I opted for Tuna Patties. Now I'm not normally a fancier of tuna, mainly on the basis that, in domestic pet culinary terms, it's considered the province of that soulless sociopath, the cat. In fact, I hear tell that my feline nemesis
Cosmo
is more than fond of a tin of tuna but only if it contains at least 50% dolphin.
Anyways, Tuna Patties became the go.
And here's the Dermott drill.
Boil some potatoes in their skins in enough salted water to cover them. Test for doneness - but not too often - with a thin skewer or even a cake tester. Test them with a knife and you'll let water inside.
When they're done, take them out of the water and set them aside just until cool enough to handle.
Then peel them. Then cut them up and push them through a potato ricer into a bowl:
If you don't got a potato ricer, get one. This Boofhead opines that a potato ricer is the only way to make perfect, lumpless mashed potato. Not to mention
gnocchi
.
Next, put your Home Economist - in my case Barbra/Barbara - to work grating some carrot, mincing some onion, garlic and celery, and crushing a couple of dried chillies:
And you can add spring onions (scallions to the American cousins) and, really, just about anything else that takes your fancy inside a Tuna Pattie.
Tip everything into the bowl with the potato and mix and season well.
Next, drain a can or jar of tuna under olive oil:
In this Boofhead's experience, tuna under olive oil is vastly superior to tuna under brine. Break up the tuna into flakes and add it to the potato mixture, mixing thoroughly to distribute the tuna evenly.
If Greenpeace burst in the door, immediately scoff any bits of dolphin you might have picked out of the tuna.
Finally, roughly chop some
prezzemolo
and add it:
And mix thoroughly.
Now comes the gorgeously gooey bit. The seasoned flour-egg-and-breadcrumb routine:
I'd like to be able to say that I learned this routine at my mother's knee. I didn't. She was too busy being an Australian Dulux Dog: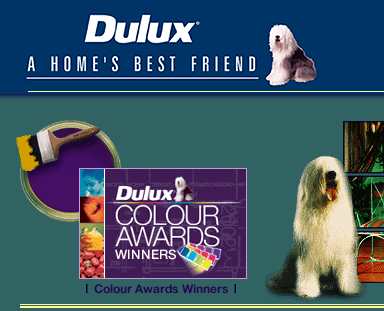 Not that that's her. But all us Boofheads look alike anyway.
Anyways, in her pursuit of stardom, she neglected me. Hence my more than several personality disorders. Actually, my uncle was a Dulux Dog, too. Chalk up another couple of psychoses. Not that I'm bitter that I didn't follow in their pawprints. Not in the slightest -
M-O-T-T-T-T-T-T-T-T-H-H-H-H-H-H-H-H-H-H-H-H-E-R-R-R-R-R-R-R-R-R!
But I digress. Now, surely everyone knows how to seasoned flour-egg-and-breadcrumb.
But, for Cosmo's benefit, you use wet paws to form the dolphin mixture into the shape of a pattie before rolling it in the seasoned flour to coat it all over. Shake off the excess, then roll it in the beaten egg. Drain off the excess egg, then roll it in the breadcrumbs. Shake off the excess breadcrumbs, press the stuck-on breadcrumbs lightly with your paws to make sure they're well attached, then set aside.
In the blink of a boofy eye, this is what you're looking at:
Now, you cook the beggars. You can shallow fry them if that's the only means available. This Boofhead prefers to deep fry:
For starters, deep frying lets the patties cook evenly all over. For seconds, you can set the oil temperature high enough to seal the outside quickly, minimising oil absorption. Deep frying, five or six minutes at 190C does the trick before draining any excess oil on kitchen paper:
Hot, golden and crunchy on the outside, velvety and chockers with flavour on the inside.
You can make a
tartare sauce
to serve with them. Or you can accompany them with a dollop of home-made spicy tomato chutney from last summer's tomatoes from the
orto
:
Of course, if you're a serious pig - and this Boofhead makes no apologies for his pighood - you stop and think to yourself. "Hang about", you think to your boofy self, "there's the deep frier, the oil, all those potatoes left over ... "
What you do, if you're a truly ruly serious pig, is this:
You garnish the plate with hot, golden, crunchy, double-cooked chippies!
For when too much starch and carbohydrate isn't enough ...
... but isn't that all the time for a Boofhead?
*
Cuoco's Note: Any out-of-focus photographs are the fault of the Home Economist who was as crap at photography as she was at Home Economisting.